New Mobvoi TicWatch smartwatch cWatch S2 TicWatchE2 TicWatchC2 TicWatch pro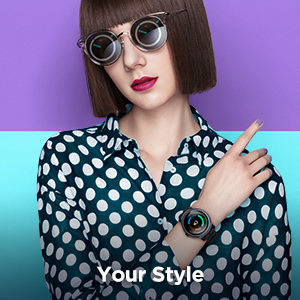 Share this:
Taking care of how you look is so important these days as we live in the world of instagram . And sometimes we need an accessory to complete our look, a watch maybe.TicWatch line from Mobvoi have been pretty well-received not only for being decent options but also for being on the more affordable end of the spectrum
Founded in 2012, Mobvoi aims to push the boundaries of next generation human-machine interaction with AI technology. Mobvoi has developed its own Chinese voice technologies in the fields of voice recognition, natural language processing, and vertical search. Through its creation of critically acclaimed consumer products in wearables, audio, automobile and home product categories, Mobvoi's rich accumulation of experience in the application of AI has in turn driven continued innovation in its core voice-based technologies
To date, Mobvoi has raised 6 rounds of funding, led by firms including SIG, Sequoia Capital, Zhenfund, Google and Volkswagen. In addition, Mobvoi's close strategic partnership with Google through Wear OS and Google Assistant as well as its joint-venture with Volkswagen Group China place it at the forefront of solving many real world problems and scenarios with voice-based AI
Mobvoi represents for you 4 types of watches to help you finish your outfit wether its classic or sport
they are  TicWatch S2 ,TicWatchE2 ,TicWatchC2 and TicWatch pro
Mobvoi TicWatchS2 
– It is available in two colours Midnight, Glacier
-US military-grade durability : built to withstand extreme temperature fluctuations shock, dust ,and water
-Proactive sports modes: Self-prompted sports tracking ,supported by TicMotion Al algorithms
-Qualcomm snapdragon wear platform: premium and powerful performance
-Built-in GPS :Multi-navigation system [GPS, GLONASS, Beidou] for responsive and precise positioning
-2-day battery life: Powered through your adventures with more battery life
-Wear OS by Google™:Proactive help from the Google Assistant™. Thousands of apps on Google Play
-24hr heart-rate monitor:Continuous heart-rate tracking
-Waterproof 5 ATM :Swim-ready up to 50m underwater
BUY NOW Mobvoi  TicWatch S2 at mobvoi.com
Mobvoi TicWatchE2
-It is available only in black.
-Lightweight & comfortable:Lightweight design and silicone straps makes it easy to wear all day long
-Wear OS by Google™:Proactive help from the Google Assistant™. Thousands of apps on Google Play
-Qualcomm® Snapdragon Wear™ platform:Premium and powerful performance
-2-day battery life*:Power through your activities with more battery life
-Proactive sports modes:Self-prompted sports tracking, supported by TicMotion AI algorithms
-Built-in GPS:Multi-navigation system (GPS, GLONASS, Beidou) for responsive and precise positioning
-Waterproof 5 ATM:Swim-ready, up to 50m underwater
-24hr heart-rate monitor:24hr monitoring continuously tracks your heart-rate
BUY  NOW Mobvoi TicWatchE2  mobvoi.com
Mobvoi TicWatchC2
-It is available in three colors [ONYX,Platinum,Rose-gold]
-Strength of steel:Stainless steel case paired with genuine leather straps highlight a classic watch design
-2-day battery life1:Rest assured to power through your day
-Built-in GPS:Multi-navigational system (GPS, GLONASS, Beidou) for responsive and precise positioning
-NFC contactless payments:Keep your wallet in your pocket and make purchases with Google Pay™ 2
-24hr heart rate monitor:Continuous heart rate tracking
-IP68 water and dust proof:Supports swimming in shallow waters3
-Smart fitness tracking:Accurately track your fitness health and progress and swim activities
-CWear OS by Google™:Proactive help from the Google Assistant™. Thousands of apps on Google Play
BUY  NOW Mobvoi TicWatchC2 mobvoi.com
Mobvoi TicWatch Pro
Much of the TicWatch Pro 4G LTE is the same as the original TicWatch, right down to the design of the hardware (although the TicWatch Pro 4G LTE is 11 grams lighter than the original model), but it does now come with the capability to connect to the Verizon Wireless network and Mobvoi has added in a few new features to make it more of an improvement over the original device
One of these new features, called TicPulse, is a new health assistant that's powered by artificial intelligence and is capable of things like tracking your heart rate proactively in the background. Inside the TicPulse feature you can even disable the 24-hour tracking if you prefer to track your health data only when you manually interact with the feature
One thing users will want to be aware of however is that Mobvoi claims TicPulse is extremely accurate and that allows the watch to monitor your health without needing your smartphone to be connected, so if you like the idea of not needing your phone for such a task, you may want to keep the 24-hour tracking enabled. It's also worth mentioning that you will need to open the TicPulse app and toggle this on for the first time
In addition to the TicPulse feature the new watch also includes TicMotion 2.0 which is the evolution of TicMotion that was available on past devices. With this newer version of the feature users can have their workouts tracked automatically so there is one less thing for them to have to interact with. This means instead of opening the TicMotion app every time you want to start tracking your exercise, you can get right to your workouts and the watch will take care of everything for you
The TicWatch Pro 4G LTE also comes with Number Sharing and Cloud Sync features. Number Sharing lets you automatically sync your phone number to the watch enabling VoLTE voice calls and the sending and receiving of messages, while the Cloud Sync lets you stay connected to notifications from apps that are coming in on your smartphone
The key draw here is that you don't need to have your phone tethered to the watch for these notifications or calls and messages to come in, which of course means you can leave your phone behind while you exercise and you can still be reached or reach anyone that you need. POSTER IN 
MOBVOI
5-Day battery life with layered display
Wear OS by Google™
Google Pay™ with NFC payments
Google Assistant™ built-in
Heart-rate sensor
Step tracking
1,000+ watch faces with Google Play™
Built-in GPS
Premium materials
Music streaming
Alarms & reminders
IP68 water and dust resistant
Manage phone calls
Bluetooth 4.2
Message notifications
Operating System Wear OS by Google™
Dimensions  D45mm x 12.6mm
Display 1.39" AMOLED 400 x 400 + FSTN display
Chipset Qualcomm® Snapdragon Wear™ 2100
Memory  RAM: 512MB / Storage: 4GB
GPS GPS / AGPS
NFC payments Google Pay™
Connectivity Bluetooth: 4.2 / Wi-Fi: 802.11bgn 2.4GHz
Sensors Accelerometer, Gyro, Magnetic Sensor, PPG Heart Rate sensor, Ambient Light Sensor, Low Latency Off-Body Sensor
Battery and Charging Capacity:415mAH Charging method: Dock with USB cable
Battery Life
Smart Mode: 2 days
Essential Mode: 30 days
Mixed usage: between 2-30 days
Water and Dust Resistance  IP68
BUY  NOW TicWatch Pro mobvoi.com